The Painting Process
Jul 29, 2018
In my last few blog posts, I have talked about my road to becoming an artist, how it is important to have a theme and that it can be quite a search to find it! It is a great feeling when you get to that point, but it is just a starting point. It's great and all, but when you don't put in the hours and work your butt off, a theme is just like the title of a book that is still in the head of a writer.
Maybe you remember I mentioned that after painting commissions for many years I often felt like there was always someone looking over my shoulder while I was working. When I decided on my subject matter, I also decided that I wasn't going to think in end results anymore. I wanted to explore the painting process without thinking of finished paintings, gallery exhibitions, and sales. Luckily for me, the software my husband had developed was selling really well and we decided that we could afford for me not to make any money for a couple of years. It is really special that in the process of our careers we both were able to support the other financially when it was needed.
Not having to think about earning a living, really gave me the opportunity to start from scratch and not think about where this was going and just create. Now picture me in my studio sitting at my workbench, surrounded by all kinds of materials and painting like crazy….
Nice artistic picture right? Typically how you picture an artist in his/her studio. Unfortunately, it's not how it went! Yes, the workbench and all the materials where there, but also a stack of white paper and me sitting in front of it not sure where to begin! I felt that if I started drawing beach scenes I would be skipping ahead of the creative process, but not using something to hold on to also made me feel somewhat empty. How do you start from nothing, with nothing?
Eventually, after cleaning my studio, then cleaning and organizing the house, reorganizing my studio, I really had no excuses not to start. I forced myself to just be in my studio, the whole day and try stuff. So I decided to start out with some acrylic paint and cheap paper (when you use cheap materials, you won't be able to sell the end result and therefore you're less likely to think along those lines). I just painted abstract shapes, used glass plates to print the paint on paper, scrapped with carton over the paint, used the back of brushes to create textures, pushed wrapping plastic over the paint, created textures through the plastic, used textured rolling pins to create designs etc. I noticed that once I started something while working on it, a new idea would pop up into my head and when I gave that idea a try it would again lead to something else. It was very interesting to experience that just by working and experimenting with paint and all kinds of materials new ideas would keep on popping up in my head.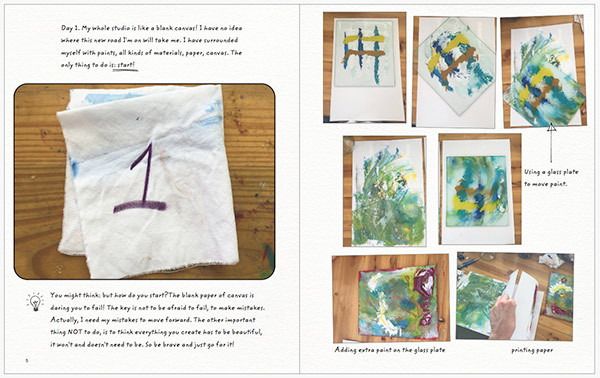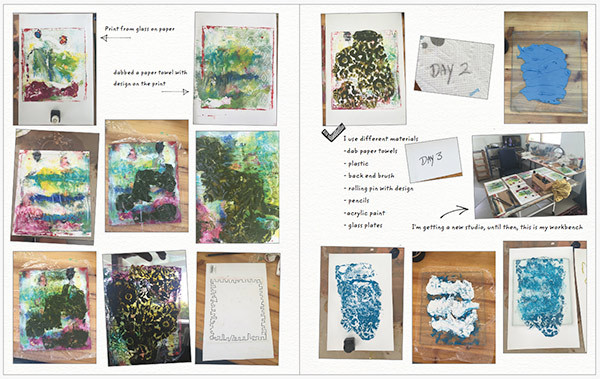 Pages from the book I'm working on about my painting process.
Because I knew that I would not be able to remember everything I was doing from day one, I photographed everything I did, so I would have a reference when I wanted to revisit an idea on a later date. Every morning I would start by photographing the number of the day (day 1, 2, 3 etc), so I also knew what I had done on which day. To this day I still do that.
Somewhere I think around day 60, my gallery agent came by to talk about an exhibit idea she had. She wanted to create an exhibition where selling the artwork wasn't the goal. She wanted to give the artist free rein so they could create anything they wanted. I told her I was in the middle of this process and that I really didn't want to stop and create something, especially for this exhibition. She understood and asked me what I was working on and I explained it to her. After she left, I kept on thinking about this exhibit and that it was a shame I couldn't participate because I really liked the sentiment behind it. Then it dawned on me: what was less sellable than the process of creation? I could enlarge and laminate a selection of the photos I had been making and give people the opportunity to take a look in the artist's kitchen and see what it takes to create a collection of paintings. My gallery agent was super excited and loved the idea. They linked all the photos (A4/Letter format) together and created large banners that hang from the ceiling. It was really cool!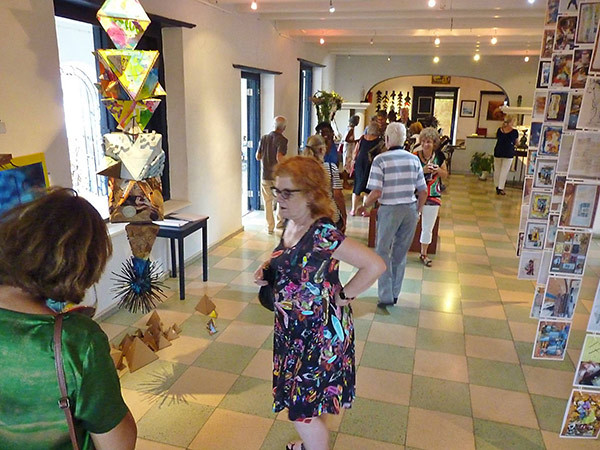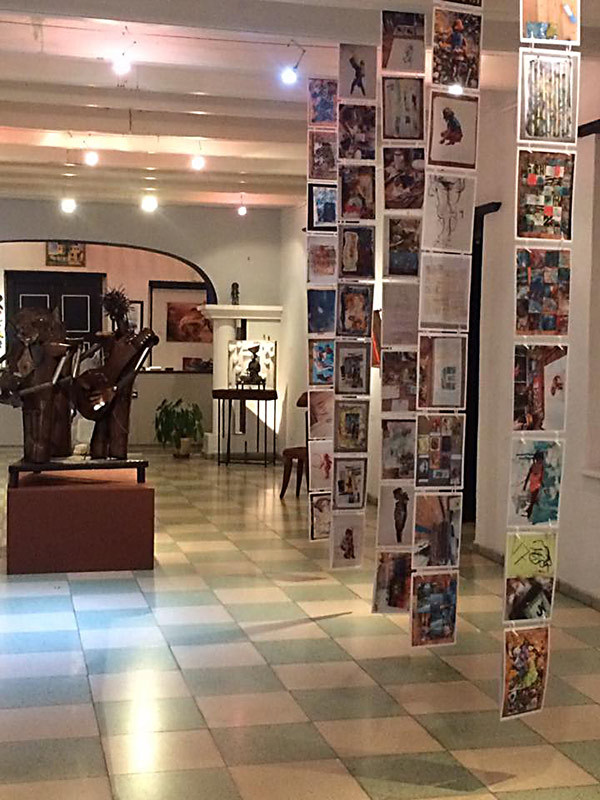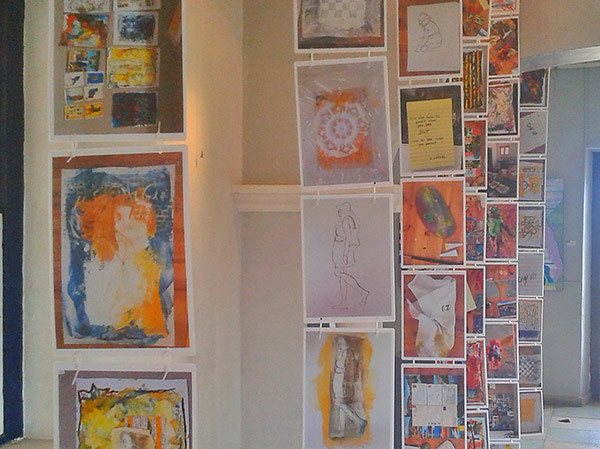 Exhibit Gallery Alma Blou here on Curacao
Looking back I think at this point in my career it has been one of the best decisions to start this painting process, to start from scratch, without expectations, without preconceived ideas and just see where it would take me. With all the technical experience that I have, the ease with which I can draw and paint, it has given me the opportunity to really explore materials, experiment, try new things. It has taken my paintings to a new level. Because so many people were interested in seeing this process, I have decided to create a book, to inspire other artists to experiment and give more people a chance to get to see that it is hard work but also see the surprising twists and turns of the creative process! It is still in the making, but of course, I will keep you posted on its progress!