✨ New paintings added to the collection!
May 17, 2018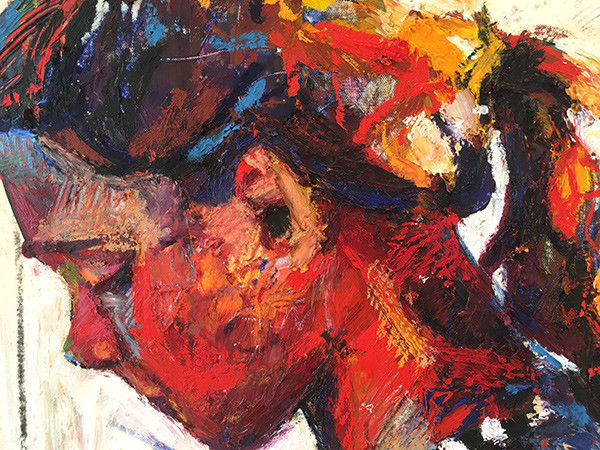 Detail 'Girl watching Fishes'
The last few weeks I have been digitalizing more work, so they can be added to the website. It is not an easy task, because I have very high standards concerning quality and I find it important that you can enlarge the painting up to the largest format the printing company can handle. Why? That is a good question 😄🙃! A lot of people have already asked me that and I think there are a few reasons:
1. It is special
The main reason is that it is special. Not many artists take the time and invest the energy to make this possible. Of course, you can photograph the work with a good camera, but the file size you need to enlarge a print is almost 10 times the size of a good quality photograph. Therefore extra large print sizes are very hard to find and as a buyer, you have to be wary that the quality will be up to par. Luckily the printing company I use has their own high standards and won't allow me to include large print sizes when my digital files are too small.
2. It is cool
Okay, I should probably convey this a bit more elegantly but I think it is really cool that buyers can fill large empty walls with my paintings! It is not difficult and expensive to find something for that smaller empty spot in your hallway or maybe in the kitchen but the moment you are looking at the large space above your couch or in your dining room, pull out your wallet because big paintings cost big money. And that is not without reason. As an artist it is not an easy task to create large work, they require so much work, it might sometimes take up to months to be completed. If you are able to buy a print for a fraction of the price of an original and fill up that empty wall in one swoop, how cool is that!
I will dive deeper into the quality process in a later post and tell you a bit more about working with a high-end printing company in a later post, for now lets get to the new paintings that you can now choose from!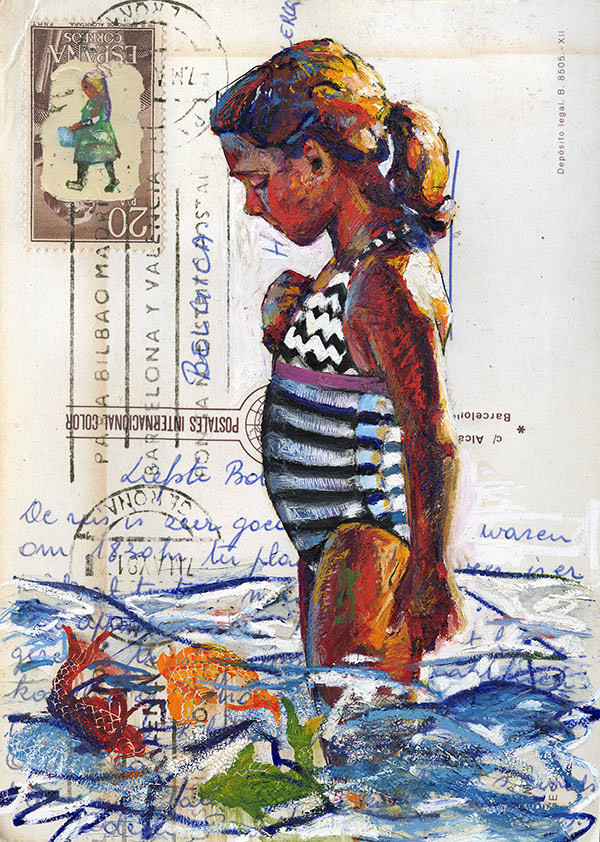 Title: 'Girl with Fishes'
This is a painting from my postcard series. It is one of the first ones I created. I think I have painted this girl about two or three times now. I love her pensive look. She was playing with her little brother in the water and I think he was out of the water for a moment. The way she was looking at the water, gave me the idea that she was looking at fishes. I painted her with pressed oil bars. It is a technique which gives you amazing texture, one you won't be able to get with paint out of a tube. The painting is a combination of mixed media, stencil technique and oil paint on printed canvas. The girl in the postcard is a little painting I also added, she is painted with oil on hardened glue!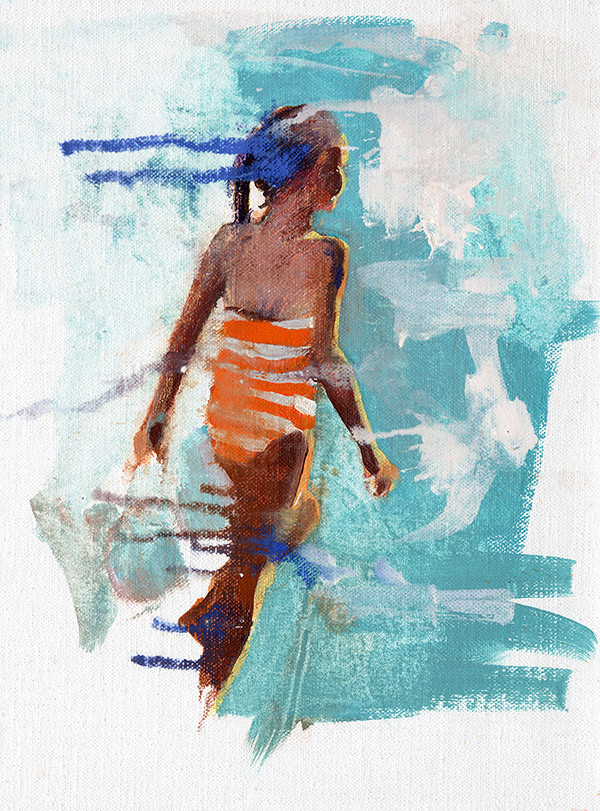 Title: 'Sundown Beach Girl'
The second painting I added this week is 'Sundown Beach Girl. We were on Hornby Island a little hippie island off the coast of Vancouver Island and there was a fun get together on the beach at the end of the day. I knew the light would be wonderful at this time of the day, so of course, I brought my camera. I saw this girl playing in the water and the stripes of her bathing suit just popped out. Lovely element for a painting! This painting is the result of experimenting with 'water-downed' oil paint on linen, the result is very fresh and airy.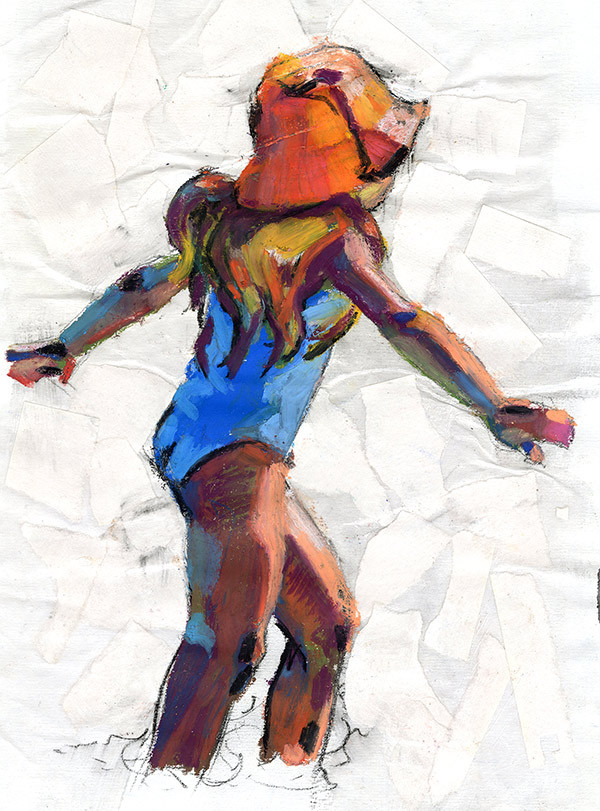 Title: 'Dancing Beach Girl'
This third painting has been created on paper with oil pastel and oil paint combined with collage elements. I wanted her to pop off the paper as a result of the vibrant colors. Often kids are playing with a spade, the sand, a bucket, and water. This girl stood out because she was dancing in the water, so happy and cute! I loved the way she was entertaining herself.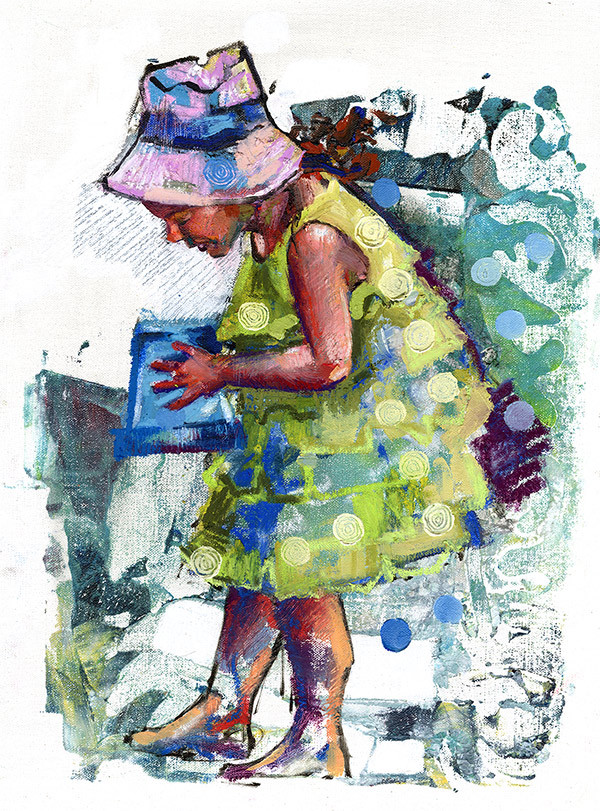 Title: 'Girl in Green Dress'
When you go to the beach in Canada, you will see almost everybody wearing a sunhat. They are very conscious of the damage the sun can do. A lot of kids wear them as well, they don't seem to complain. This girl was too cute for words. She almost stepped out of a different century with this green ruffle dress. I painted her on linen with oil and combined the figurative elements with a gell plate printing technique. If you look closely you can also see I worked in the wet paint probably with the back of a brush. This technique can create really interesting results.
As I said, the last few weeks I have been busy behind my computer, getting my website up and running and uploading a lot of paintings! Now it is time again for some creativity in my studio, looking forward to start painting again! I will probably make it possible for you guys to see how my new paintings will be created. Either by Live streaming and probably also by creating time lapses. I will keep you posted on when and how this will take place! For now, I hope you enjoy these new editions and I will keep on creating more!