Painting for Mystery Art Sale 2018
May 09, 2018
Once a year the Portrait Society of America organizes a wonderful conference for Portrait Painters, it is a weekend full of painting, lectures, workshops, and demonstrations. During a banquet on Saturday night, they announce the Grand Prize winner for the International Portrait Competition. The crème de la crème of the portrait world attends and it really is an honor to be selected from thousands of entries.
Last year one of my paintings was among the best 30 paintings of the competition and I received a Certificate of Excellence. Although I don't live in the United States, I didn't hesitate and decided to go attend the conference (it would be my fourth time) because it is quite something to be recognized for my work by my colleagues. It was a lovely evening and I was very happy that I went, this is something I will remember for a long time. It also really gave me a boost and extra confidence that what I'm doing has value. You must understand that as a painter you work alone most of the time and you have to be your biggest critic. As an artist, if you can't be critical of your own work, you will never progress and develop your talent. I think it is one of the most valuable skills I learned in Art School.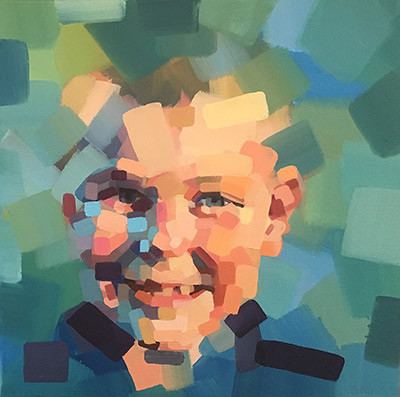 I created this painting about a year ago. It is a portrait of my nephew Thijs, the oldest son of my sister. I paint him, his sister and the son of my other sister (I have two) almost every year. Always on a square canvas and I have free reign, so every year they turn out differently. This time I was into blocks, I didn't think about it up front, it just turned out this way during the painting process. I often start out this way more or less and then fine tune the portrait more but this time I really enjoyed keeping the style and trying to get a good likeness even though the portrait is kind of abstract. You can imagine I was very happy to get the approval of the Portrait Society jury!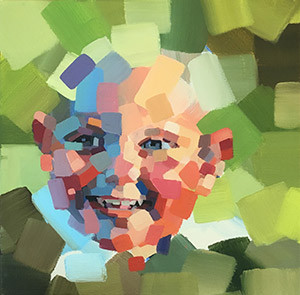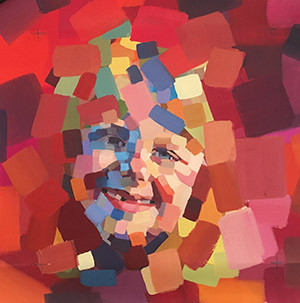 These two cuties are my other nephew and niece. As you can see the portraits have been created as a series and I enjoyed experimenting with keeping abstract elements as much as possible. To give them all their own character I chose three different color scheme. I am about to create a new series, so curious how these new portraits will turn out. I seldom think about the approach up front, I mostly get inspiration the moment I have the blank canvasses in front of me.
Because of the certificate of Excellence I received last year, this year I was asked to participate in the Mystery Art Sale. Last year the art sale generated over $25,000 to provide scholarships for artists. Several years ago, founding board member of the Portrait Society of America, Daniel Greene, suggested that they hold a special fundraising event at the annual The Art of the Portrait conference. His idea was to offer attendees the chance to take home original artworks from their favorite faculty members and recognized artists. As a result, the 6x9" Mystery Art Sale was born.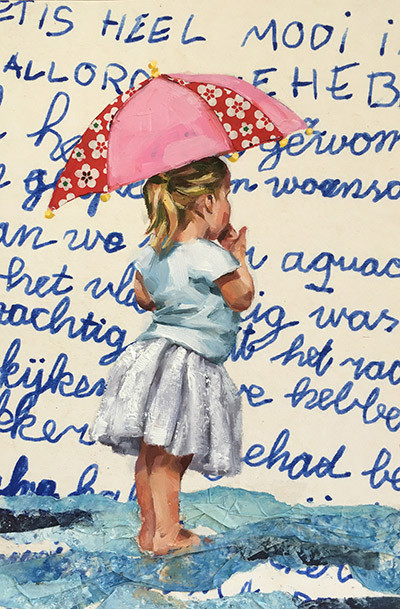 I created this painting, especially for this art sale. Normally I work on larger canvasses, so it was interesting to figure out how to get the details just right on such a small painting. My husband saw me wearing my enlargement goggles a lot and I normally only use them when busy with my lapidary and silversmith hobby!
I saw this girl one day playing in a large sand pit, in a white tulle skirt with a pink and red umbrella. She had more eyes for the umbrella and her lovely tule skirt than for the sand and the buckets and spades. I love the way she stands, such a typical child pose: tummy out and a hollow back, very cute.
I like to work with unconventional materials and at the moment I am experimenting with old postcards. I use the postcard themselves in my work but also work with a fine art printing company to create enlargements. These enlargements create a very strange effect that I like. In this painting, I used part of a postcard written by a child to his or her grandparents that tells about how nice their vacation is and that Mallorca is very beautiful, the food good and the swimming great (the text is in Dutch). I wanted to give the impression that the girl is standing in the water and therefore used strips of crumbled tracing paper that I painted with watercolor and glued onto the painting. The girl is painted with oil and brush and I paid extra attention to the details in the skirt, to really give it a textured look. In the umbrella, I used Japanese paper to create the red parts.
On the Portrait Society of America's Facebook page, there are two 'live' videos of the sale. You can see my painting in 6.40 minute in video 1 and then at 0.40 seconds in video 2. Since then I have been contacted by the buyer, who is very happy she won the painting. She said:
'I won you painting from the Mystery 6 x 9 sale at the conference this year! I fell in love with it right away 😍At the sale when there are more interested buyers, they put all their names in a hat and pulled a name of the lucky winner.
I couldn't be more pleased!
https://www.facebook.com/portraitsociety/videos/10156213641652429/ (video 1)
https://www.facebook.com/portraitsociety/videos/10156213641652429/ (video 2)