My path to becoming a successful artist
Jun 04, 2018
Before I became a painter full-time, I was a project manager. I just finished my masters in art- and cultural science, which I started right after I finished my art education. When I applied for the job I thought: 'there are two things I'm really good at, painting and organizing. I know I enjoy painting, but maybe I'll enjoy project managing more.'
I'm glad I gave it a try so I'll never have to think 'what if' because within a year I knew a few things for sure:
- I'm not a team player, I like doing things my way
- I didn't enjoy office talk and people asking me on Monday 'how was your weekend'
- And I didn't enjoy working for a boss, I wanted to be my own.
When I was sent on a management course and the team leader let us take a test to determine what type of person everyone was, I was the only one in the group who scored sky high on 'Creative'. At the end of the day, he took me aside and said that he normally wasn't in the habit of telling people what to do, but that it might be a good idea for me to look for my passion elsewhere! The next day I handed my boss my resignation letter and felt so relieved that I didn't have to continue on that path. I told myself that I would give myself five years to earn a living as a painter and if that didn't work out I could always be a postman. Okay, I would have a boss, but I would work alone and I wouldn't be stuck in an office. Now, 15 years later I no longer need that fallback plan, but for a long time, it gave me financial peace of mind.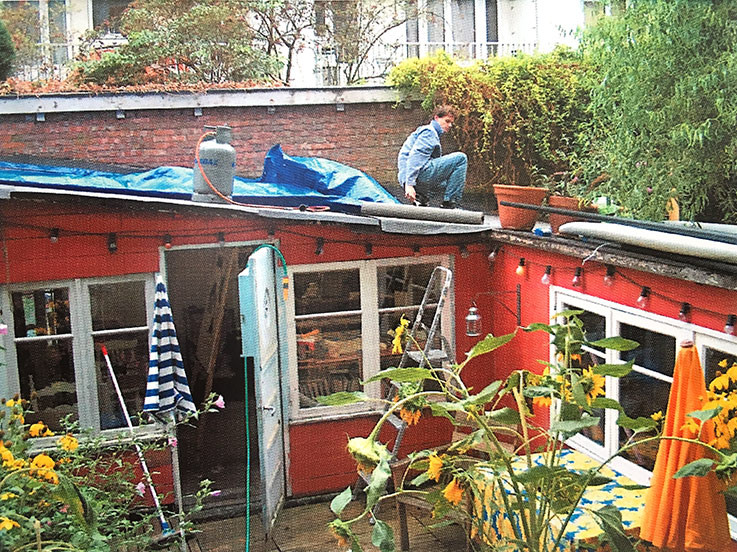 My first studio, a tiny house in the back of our tiny garden.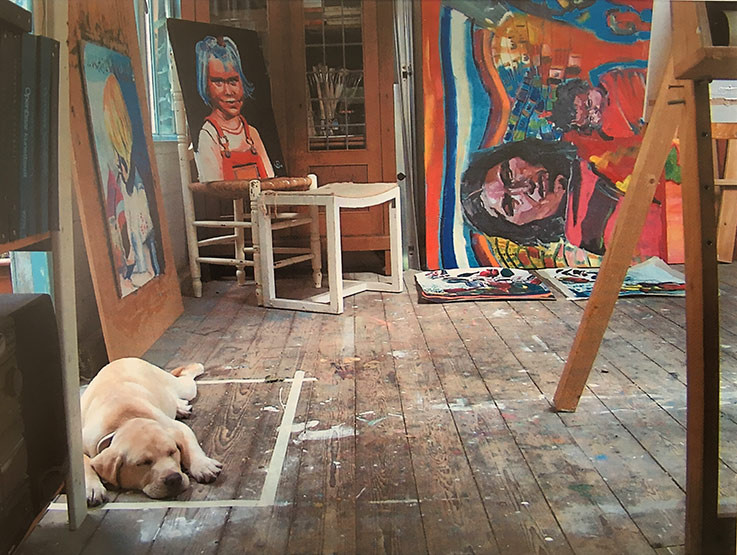 The inside of my studio. Because of all the wet paint, our pup was not allowed beyond the masking tape barrier!
I started out in a tiny studio in the back of our tiny garden in Amsterdam. The story is that one of the previous tenants had built a tiny house in the garden at the beginning of World War II so his daughter could stay with him for a while and not have to travel (probably by bike) to where she lived outside the city. It didn't have heating and in the winter it was so cold, I couldn't paint and had to do other things like teaching and computer stuff. After a few years, we decided to move. The house was bursting at the seems! My paintings were stored in our equally tiny apartment to protect them from mold, my husband had also started his own business and had set up shop in our dining/bedroom. It was almost impossible to find something bigger but still affordable in Amsterdam, so we moved out of the city through a three-way house swap. My husband and I moved into a large house with studio, the family there moved to a smaller house with a lower rent in a town where they would have family nearby and the couple living in that house moved to our house in Amsterdam. It took three months for everyone to agree and get the housing corporations on board but we made it work! I now had a large attic studio. The previous tenant was also an artist but older and he didn't want to continue painting so he sold me a lot of his materials. It felt like I had hit a gold mine. It was a great space to receive clients and again no commute! There was no reason for us to move house again except that we always wished to live somewhere warmer, so that's why we are now living on the Caribbean Island of Curacao (we moved here six years ago). It is part of the Dutch Kingdom and therefore it was easy for us to emigrate and settle here. Two years ago we bought a house and I now have my own studio, an annex to our house which I designed just the way I wanted it to be. I feel very lucky!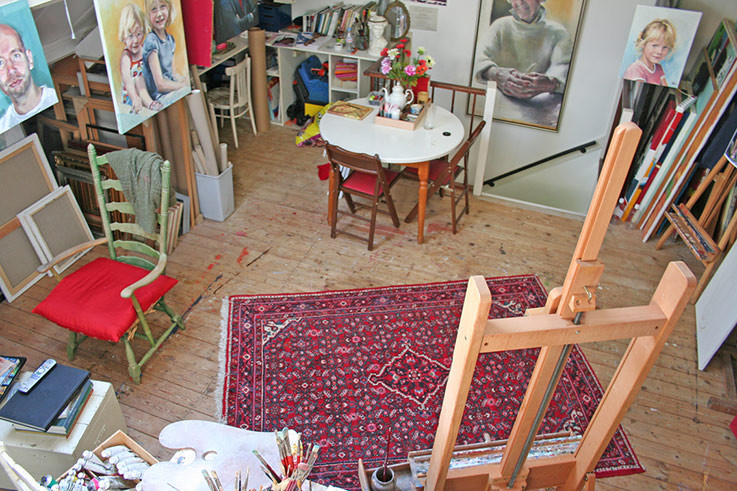 My second studio
I'm not your stereotypical artist that works best during the night, I am more a nine to five person (ironically!). I wake up around seven, work out and normally I'm in my studio around 9:30 am until 7:00 pm. I love the fact that every day brings something different, I work on multiple paintings at the same time and also vary working on small or big pieces. Now that I have my online webshop, I have to spend more time behind the computer, scanning and uploading new paintings but also creating content like this blog post so you guys can get to know me a bit better! I had a carpenter make large open cabinets so I can store my materials without them being out of sight. Because I like to experiment I need to be inspired by my collection of strange objects (I'll make a note to write a separate blog post about them) and my paints. I work a lot with oils (both paint and pressed oil bars), but also with acrylics, watercolors, and acrylic spray paints.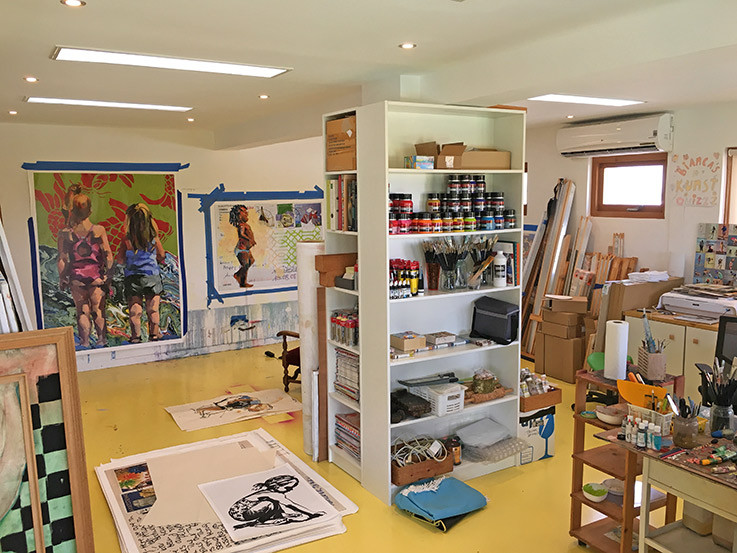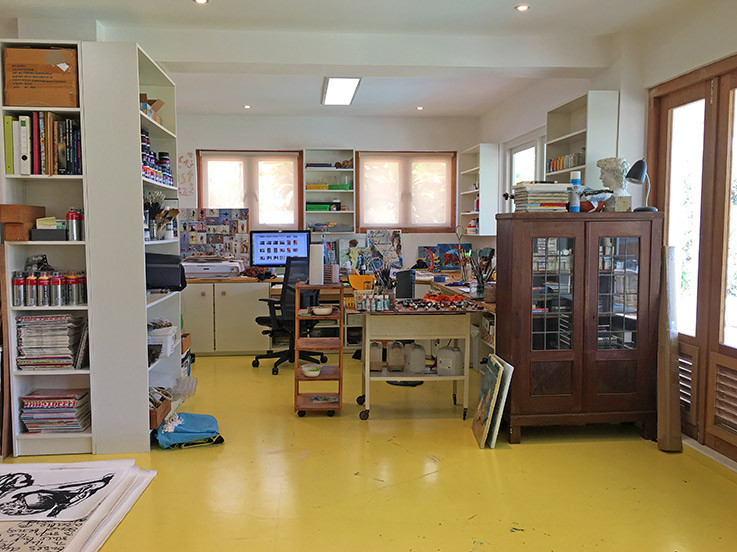 My current studio
Sometimes people ask me if I wait until I get inspiration but that doesn't work for me. I need to be in my studio to be inspired and I when I'm not sure how to continue I just need to start working. Some paintings can be in my studio for months and some are finished very quickly. I like to also sit down in a comfy chair and just look at them for a while. I then look around at my materials and often I get an idea on how to proceed. It is very important not to be hesitant - being bold is better. If you are too scared of making mistakes, you may also miss out on a lot of creative opportunities. Sometimes the best creations are born out of something that started out as a mistake but turned into a beautiful effect that you would never have discovered if you'd been hesitant and played it safe. When I taught painting, I always told my (adult) students to leave fear at the door and be brave. Telling them also reminded me to be brave, even now when I'm writing this down does it also help me with my own mindset because it is more easily said than done and therefore good to remind oneself of this great piece of advice!
It requires quite some discipline to work alone and also be critical of one's own creations. I love what I do, but that doesn't mean it is easy. Sometimes it can be a frustrating process and only by working hard, trying new things and putting in the hours does eventually a series of paintings emerge. It is easy to fall in the 'playing artist' trap. A bit like playing house. Complaining of not having inspiration or spending lots of time in the studio without really getting anything done. One of my teachers at Art School used to tell us that being an artist is 1% talent and 99% blood sweat and tears! That idea really helped me then, because I wasn't as naturally gifted like some of my classmates, but I knew I could compensate by putting in the work. In the long run, I think it helped me because in the end every artist no matter how talented needs to come out of his or her comfort zone to get ahead and if you get used to this dynamic early you might get less disillusioned later because you know that hard work pays off.
I'm glad I choose the path of becoming a painter, after the first five years I knew I had what it took if I kept up the work and I was even earning enough money to support our household when my husband was building his software tool (tomsplanner.com). Tom has his office next door and when he wants to taunt me, he will ask me on Monday how my weekend was! That kind of office talk still pushes my buttons!