Why a theme is so important for an artist
Jul 02, 2018
Why is it so crucial for an artist to have a theme? Shouldn't you be free to paint anything you want? Of course, you should, but I find that having a broad theme, almost like an umbrella under which you create your paintings, gives an artist a chance to develop his or her work and explore the creative possibilities both technical and visual. I believe that when working without a framework, you run the risk of touching only the surface of a creative process that could lead you to more exciting works of art.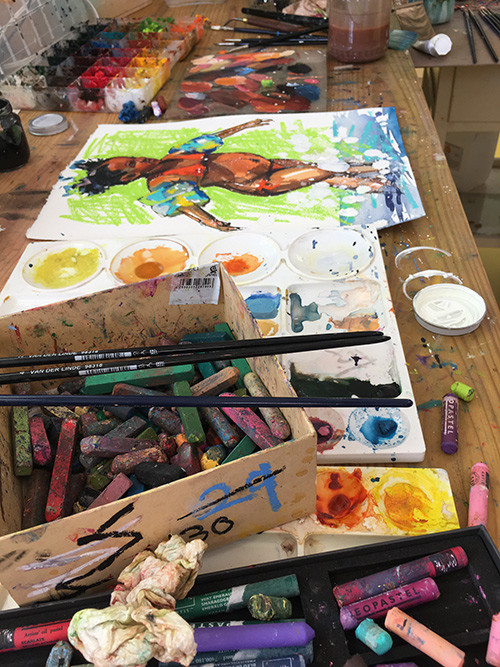 Another reason a theme makes sense is that it gives you the chance to focus on the painting process instead of the finished product. This sounds simple, but I find it is one of the most difficult challenges in my practice as an artist. My high school art teacher once told me to focus on the painting process and not on the end result, and that always stuck with me. It sounds , but of course, it is the opposite. I heard him, but it felt like he was speaking another language: I totally didn't understand what he was saying. I remember I created my final project for his art class: three paintings of a swan transitioning from swimming in the water to flying away. I was quite pleased with the end result, but knew my teacher would want to see the process that led to the final paintings, so only after finishing the paintings did I create the 'process.' No idea if he suspected I did it the other way around and to be honest just recently I finally understood what he meant!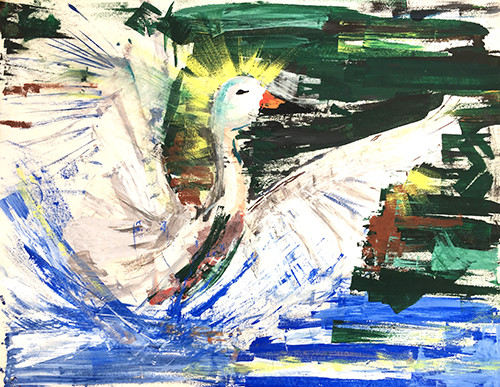 One of my paintings I created for my High School exam, 1989.
During all the years I mainly painted commissioned portraits, my focus had 100% been on the end result and the likeness of my sitters: that's what makes a good commissioned portrait. It felt a bit like I always had someone looking over my shoulder while I was working. When I decided to stop with the commissions' work that was also a feeling I wanted to shake. A theme would give me the chance to 100% focus on the painting process, a scary idea because if you don't know what you're going to paint beforehand, where do you start? I will dive into that 'little' problem in a later post, but I can tell you, it was hard! For now, I will tell you a bit about how I found my theme and came to create the series Beach Children paintings.
Let's go back in time a bit. Around 2002, soon after I started painting full-time (and quit my job as a project manager), a portrait I painted of my husband's grandfather was selected for the BP Portrait Award exhibition in the National Portrait Gallery in London. I painted him just for fun. I had just finished a whole bunch of small contemporary portraits and figures for a gallery, based on all kinds of photos in magazines and books about different cultures. It had been a while since I had created a large painting and decided to paint him because I loved his happy, charismatic look.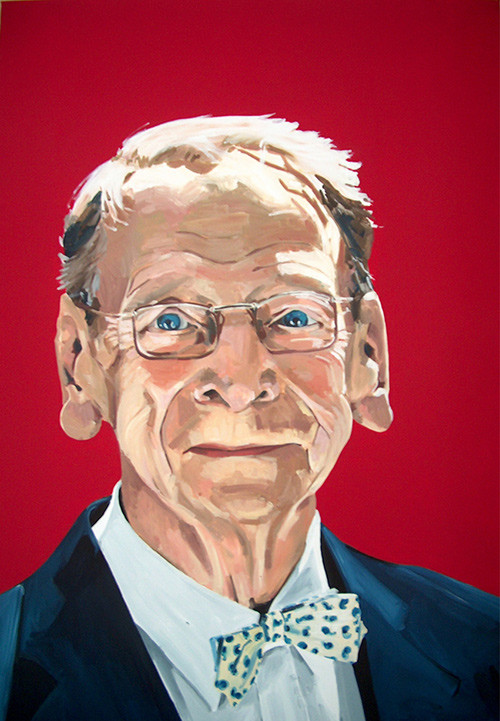 Portrait selected for the BP Portrait Award exhibit. 'Bompa'/'Granddad' 2004, oil on linen, 43x63"/110x160cm
I had really enjoyed the painting process and being selected for this very prestigious award exhibition was one of the reasons I decided to specialize as a portrait painter. For about ten years I perfected my technique and painting skills by working exclusively on portrait commissions. I enjoyed the interaction with my sitters (often children), with my clients and their enthusiastic reactions regarding the finished paintings. Before when working with galleries, I never knew who bought my paintings, it is information the gallery owner often keeps from the artists they represent.
After almost ten years I found that the excitement I felt in the beginning, was slowly fading because my creativity was bound to my client's wishes. They gave me parameters like size and background color which I, of course, needed to follow to make the commission a success. Slowly I felt that I wanted to be entirely free to paint what I wanted, but this had financial consequences. Having a successful practice as a portrait painter also meant that I knew almost two years in advance (because of my waiting list) what I would be earning and since my husband was developing software around the same time (www.tomsplanner.com) and had almost no income, we really needed that financial security. Luckily he was nearly ready to take his product to market, and so I decided to stop accepting new commissions and only work on the commissions for clients that were still on my waiting list. That meant I would have more than a year to think about what I wanted my theme to be for my new collection.
But fate had other plans! Suddenly I received emails almost weekly from clients who's child I had painted and who asked me to paint their sibling as well! Of course, I didn't refuse, and therefore my number of commissions grew instead of diminishing! On top of that, I was asked to paint the leaving governor of Curacao, which of course is a great honor that I was happy to accept! The upside was that it gave me a bit more time to mull things over. The fastness of the possibilities was, of course, difficult and felt a bit debilitating. I wanted to make sure I didn't stay in my comfort zone too much, and it would challenge me technically, but on the other hand, I needed a theme that was an extension of me. All kinds of ideas went through my mind, I even considered a massive project where I would paint interesting people from the island of Curaçao where I live: one portrait per day for one year. This was way out of my comfort zone because I would be interacting with people every day and that is quite a challenge for someone who prefers to work alone! The idea stuck with me for quite some time, but eventually, I decided against it because I felt I needed to find something that I would enjoy for 100% to make it work and this idea was making me more anxious then enthusiastic.
I decided to revisit all the paintings I had created during the last ten to fifteen years that weren't commissioned and found they all had something in common! Why hadn't I thought of that before! My theme had been there all along right under my nose: Beach Scenes! I realized I always painted people. I also created a series of watercolor beach scenes when visiting my grandparent's vacation home in Spain and a small set of vacation postcard paintings, where I used real postcards in my work. Furthermore, I adore the painters of light: Sorolla and Sargent, who both painted tons of beach scenes and I enjoy the technical complexity of painting light and shadow, and I love bright colors. It was like all the pieces of the puzzle fell into place, almost like coming home.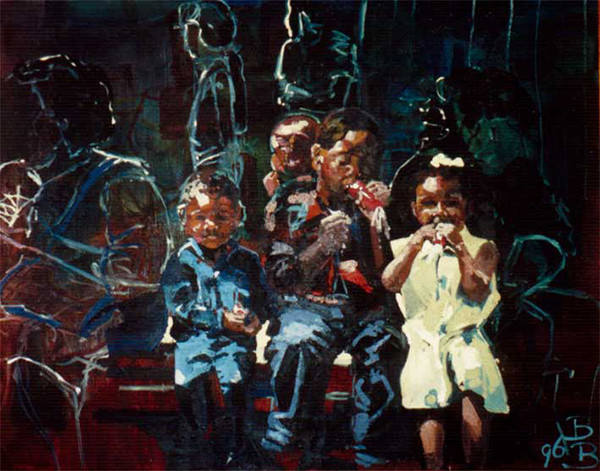 Painting from 1996 when living in Surinam for a year. 43x47",100x120cm, oil on linen.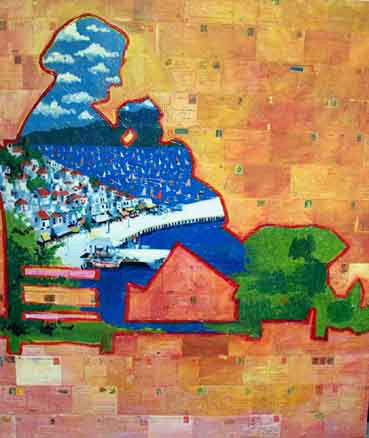 'Grandma' 43 x 63"/110x160cm (I used only postcards from people who were on vacation), oil and mixed media on linen
My first postcard series from around 2002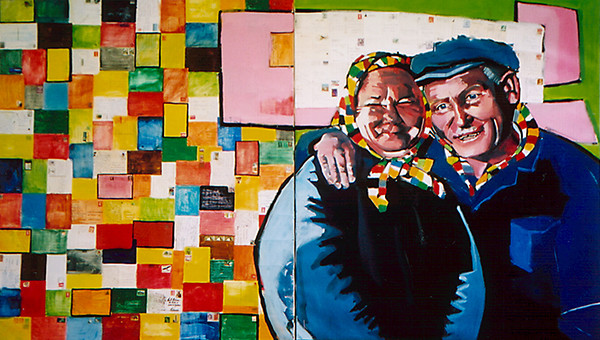 'The home front'/ 'De thuisblijvers', 43x100"/110x250cm, oil and mixed media on linen
And the fact that I live on a tropical island and am surrounded by beaches all the time also meant that I would have enough inspiration to last me a lifetime. I have been working under this umbrella now for the last 2,5 years, and it must have been a good choice because I step into my studio every morning and can't wait to start! So I found my theme, and up until this day, I think it might stick with it for the rest of my painting career!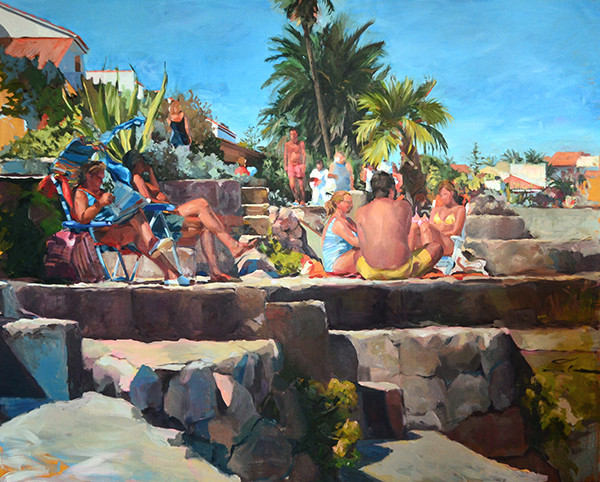 'Denia, Spain', 2013, oil on linen, 70x62"/160x180cm